A round-table discussion on the topic of EU programs for the development of culture and civil society of regions will be held on Friday, November 12th, at noon in Šibenik's ABC (Adriatic Business Center). The organizer of the event is the public institution Development Agency of Šibenik-Knin County, and the discussion will be held within the Conference on the Future of Europe.
The director of Fortress of Culture Šibenik, Gorana Barišić Bačelić, joins the discussion as a representative of one of the leading cultural institutions from the Šibenik-Knin county, accompanied by Željka Markulin (coordinator for the National contact point to the CERV program, from the Republic of Croatia's Government's Office for Cooperation with NGOs), Anera Stopfer (leader of the Creative Europe program service, the Ministry of Culture and Media), and Vesna Pauča (the representative of the ZvoniMir association).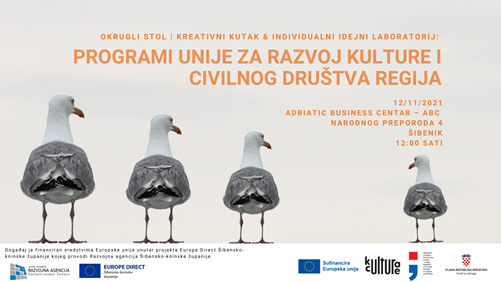 CULTURAL ORGANIZATIONS AND CIVIL SOCIETY AS DEVELOPMENT INITIATORS
The topics that will be included in the discussion will have the goal of mainstreaming the role of cultural organizations and civil society in Croatia as relevant initiators of the social and economic development of regions. Apart from that, several Creative Europe program-funded cultural projects will be presented. During the round-table discussion, all participants will obtain solid information on current and upcoming tenders within all EU programs from the field of culture. Also, some general information will be given on civil society organizations in the new financial perspective (2021-2027), with emphasis on EU programs CERV – Citizens, Equality, Rights and Values, and Creative Europe, sub-section: Culture.
ONLINE AIRING
Participation in the discussion is available solely by way of official application, while there's a limited number of seats available in accordance with all current epidemiological measures. The event will also be accessible online on the following LINK.
More info HERE.